I haven't been in Laufhaus Vienna for about two months, which is quite unusual by me. I have to admit, I am an absolute addict when it comes to the Vienna paysex scene. After frequenting Maxim Wien and Ici Paris, it was about time to switch to LHV a little bit.
I didn't make an appointment this time. Instead I decided to randomly go there for some window shopping until I pick a girl. The laufhaus itself gives a good impression with its cleanliness and the abundance of rooms available there, many with open doors.
There were some familiar sex workers in Vienna as I glanced into the rooms. I just kept going until I have found the room that was impossible to resist. It was Breni's room and she was lying in bed totally naked. Slim girls with big breasts always got me on the hook.
Breni Exceeded my Expectations
I entered the room, I wanted to see more. There was not much hesitation, as we quickly agreed in 30 minutes. After I took a shower, I sat down on the bed to watch her as she shakes her tits and ass in front of me.
I already knew I've made the right choice when my face was between those big natural breasts. Her round and firm butt with those long legs looks amazing. She let me touch and grab her wherever I wanted, even encouraged me to do so.
After an intense blowjob she got on top of me and continued with fast-paced riding. It felt like being with a porn star. She kept eye contact, which is something that many other girls would avoid. She did most of the work and it was all hot and sexy.
If you guys are looking for a slim, big breasted girl in Vienna than let me tell you that Breni from Laufhaus Vienna is one of your best choices. I'm already thinking about going back and having a blast with her again.
Here are the photos of Breni from the LHV website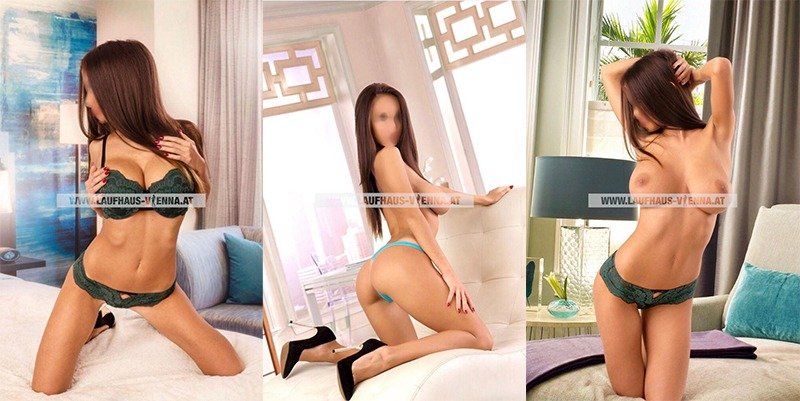 Check her out on the LHV website: Breni
My Overall Impression and Other Thoughts
Some say she is from Bulgaria, some say she is a Romanian girl. Her accent seemed kinda Bulgarian to me. Either way, these are just little details that are not important for me. If the girl looks great and we can communicate, I'm set.
Another thing I wanted to emphasize is that at least in Laufhaus Vienna, girls know how to greet clients properly. I've been in many places where they twiddle with their smartphones or watch TV or something like that.
Note for beginners – I was kinda lucky this time but you guys better make an appointment in advance if you want to be with a specific girl. This is for those who don't want to wait, as LHV can be quite crammed at times.
Submitted by: Douglas Fondaine
Related Articles and Links
Tags: