Goldentime Vienna is one of the few FKK Saunaclubs that are still operational in Wien. This page contains all of the information that we have ever posted about this establishment. By checking out the following articles, you can find the latest breaking news surrounding this place, information about the ladies who work there, as well as everything else that you will ever need to know. 
The Goldentime Vienna FKK is one of the best picks if you are craving a Saunaclub experience in Vienna. The establishment always has many ladies available, the rooms are decent and clean and clients are able to use all of the wellness facilities in the establishment. You can find articles on this page about the entry fee, as well as the general price that women in the Saunaclub ask for. Since there is no list of available ladies in the FKK, reading our articles is among the best ways to learn more about potential girls with whom you might want to spend an hour with.
So, in case you wish to educate yourself about the Goldentime Vienna FKK, this is the right page for you! Take a look at the articles that we have already published, and don't forget to come back regularly, as we will be posting new information as soon as we acquire it. Additionally, you have the option of reading what other people think about this Saunaclub over on the SV Forum. We have created a dedicated thread for Goldentime Vienna, so that all the information about this FKK can be found in one place. Register for free and start browsing and posting in the forum now!
Newest Goldentime Articles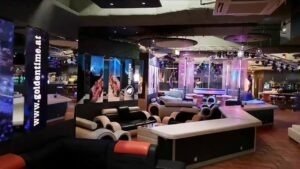 According to a report that has recently been posted in…
Read More
Subscribe to our Newsletter